APCO International hosts a number of events and conferences throughout the year designed to provide members and public safety communications professionals with cutting edge educational experiences, effective networking opportunities and showcases of the industry's latest and greatest products and services — unmatched by any other organization!
---

Join us August 15-18, 2021 for APCO 2021 in San Antonio, TX.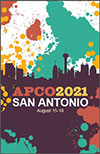 APCO 2021 is the premier event for public safety communications officials, from frontline telecommunicators to comm center managers to public safety communications equipment and services vendors.
APCO offers recorded professional development sessions, audio synchronized to PowerPoints, from the 2019 annual conference.
See previous sessions offered through the Professional Development Series
Future Cities
2022
Anaheim, CA
August 7-10, 2022
2023
Nashville, TN
August 6-9, 2023
2024
Orlando, FL
August 4-7, 2024
---

Nov. 2-4
This event brings together attendees and industry leaders to discuss technologies that are on the horizon and address the challenges of the ever-changing landscape of public safety communications.
All 19 sessions now
available on-demand
, starting at $25 for Full/Associate APCO Members. Watch at your own pace and earn CEUs.
---

April 11-17, 2021

Every year during the second week of April, the telecommunications personnel in the public safety community, are honored. Tell us who YOUR superhero is, in or out of the ECC, and be entered to win $100 for your comm center.
---

May 26-27, 2021
Virtual
Nexus is designed to provide an experience unlike any other, where attendees will be immersed into a comprehensive and educational 360-degree view of the future state of emergency incident response.
---

May 26, 2021
Virtual
Join us in recognizing advocates for the emergency communications industry.