Government Relations Office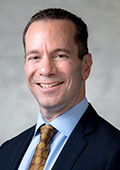 Jeffrey Cohen is Chief Counsel and Director of Government Relations at APCO International. In this capacity, Jeff provides strategic guidance on policy, legislative, and regulatory matters to advance the association's work on public safety and emergency communications. Prior to joining APCO, Jeff served as a detailee from the Federal Communications Commission to the Communications and Technology Subcommittee of the House of Representatives Energy and Commerce Committee. While on the Hill, Jeff was one of the authors of the FirstNet public safety legislation enacted in February 2012. At the FCC, Jeff was Senior Legal Counsel to the Chief of the Public Safety and Homeland Security Bureau. Before his move to the federal government, Jeff was a partner at the Washington, DC telecommunications law firm of Wilkinson Barker Knauer, LLP, where he worked over ten years on wireless regulatory matters since graduating from the George Washington University Law School with honors in 1994. Jeff also holds a B.S. cum laude in electrical engineering from the George Washington University. Jeff is a recipient of the FCC's Silver Medal Award, APCO's Leadership in Regulatory Service Award, and the National Emergency Number Association's Presidential Award. Contact Jeff at cohenj at apcointl.org.
---
Mark Reddish joined APCO in 2012 and serves as Senior Counsel and Manager of Government Relations. In this role, he analyzes regulatory and legislative issues related to public safety communications and serves as a staff liaison for APCO committees. In addition to this experience, he has more than ten years of active service as a volunteer firefighter and emergency medical technician in the DC metro area. Mark earned a B.A. in psychology, summa cum laude, from Washington University in St. Louis and a J.D., magna cum laude, from the University of Illinois College of Law where he served as an editor on the Jessup International Moot Court board. Contact Mark at reddishm at apcointl.org.
---
Alison Venable is Government Relations Counsel at APCO International. Alison graduated cum laude from the University of Maryland School of Law with certifications in Cybersecurity and Crisis Management as well as Environmental Law. During law school, Alison worked as a research assistant for the Center for Health and Homeland Security and as an intern in the Public Safety and Homeland Security Bureau of the Federal Communications Commission. In her final year of law school, Alison served as Editor-in-Chief of the Journal of Health Care Law and Policy and received the William P. Cunningham Award for exceptional achievements and service to the school. Prior to law school, Alison volunteered as a Disaster Survivor Assistance Specialist with FEMA Corps, a subset of AmeriCorps, where she aided in obtaining government assistance for victims of flooding in Mississippi, Texas, and Louisiana. Alison graduated from American University in 2015 with a B.A. in International Studies and a certificate in Indian Studies from Manipal University in Manipal, India.