Project 43: Broadband Implications for the PSAP
Recommendations: Cybersecurity
---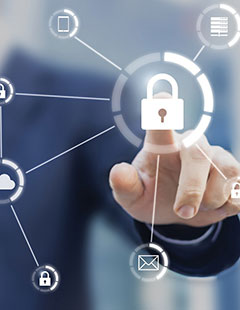 There are a number of proactive steps that public safety agencies can take to plan and properly defend networks and systems. The following section represents some high level recommendations to help agencies begin this critical process.
Education and Training
APCO encourages agencies of all sizes, and personnel at all levels, to get engaged in the cybersecurity conversation, get educated about the threat, and become proactive in the defense of the public safety communications ecosystem.
The ability to defend networks and systems is directly related to the understanding of those systems. Even basic knowledge of the networks and systems, and the security risks and potential solutions available, will empower public safety leaders to ask relevant questions of their vendors who, in turn, can provide focused responses and design solutions for the safety and security of the PSAP.
Security training works best if participation is mandated and monitored for effectiveness, and made part of quality assurance/quality improvement programs. APCO will develop and offer a cybersecurity hygiene course for public safety communications professionals to assist with these challenges.
Sharing Cybersecurity Resources
APCO supports the concept of an EC3 as described by the FCC's TFOPA cybersecurity report.72 APCO recommends becoming familiar with the EC3 concept and proposed architecture, as well as considering requirements for full IDPS capabilities in any forthcoming RFPs related to next generation systems and services.
Develop a Cyber Strategy
PSAPs should develop strategies for preventing and mitigating cyber-attacks. Individual approaches may vary. For example, strategies may entail conducting audits of cyber hygiene and unauthorized access on a monthly basis, or setting more stringent protection measures for systems based on cost and perceived need. Universally, however, these strategies should be comprehensive, recognizing that cybersecurity needs to be a group effort, with everyone made to feel they are part of the solution.
If a system is hit by a cyber-attack, having a plan available for immediate implementation and mitigation is essential. Establishing critical partnerships with technology partners and government resources will lessen the impact to the organization and increase the ability of enforcement agencies to locate and prosecute the actors. APCO currently participates in federally-coordinated response efforts by working with the DHS National Coordinating Center for Communications (NCC) to distribute information about potential cyber-attacks affecting PSAPs.
Report Suspicious Activity, Threat, or Attack
PSAP personnel having reason for concern of a cybersecurity issue should report the event as soon as practical after attending to any operational priorities. This helps situational awareness particularly if the attack is widespread. Complaints can be filed with the Internet Crime Complaint Center, www.IC3.gov, which is co-sponsored by the Federal Bureau of Investigation and the National White Collar Crime Center.
---
Notes
72https://apps.fcc.gov/edocs_public/attachmatch/DA-16-179A2.pdf.