Project 43: Broadband Implications for the PSAP
Recommendations: Operations
---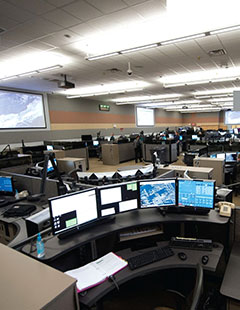 Operational Standards
Standards are critical to effective operations, and to ensure interoperability, cost effectiveness, and innovation. For operations, new ANSI standards should be developed to address data triaging; real time evidence management, retention, and control; and interoperable interactions with other agencies. With the advent of a major transformation within 9-1-1 and emergency communications, this will be a large but valuable undertaking.13
Best Practices
The nature of broadband technology to lead to uniform deployments and applications across the country, while allowing room for local customization and control, provides opportunity for model best practices development. APCO will develop an online repository for PSAPs to post and share next generation best practices.
Resources and Funding
PSAP managers and directors should work to build their cases for new or modified personnel positions and the funding needed to upgrade and maintain needed services and equipment. They should also engage in a broad dialogue with IT departments and other existing or developing intelligence analysis centers to frame out respective operations and division of responsibilities. APCO will advocate at the federal level for a sufficient, effective, and efficient grant program for the initial capital needed to modernize 9-1-1 networks and equipment across the country.
Public Messaging and Education
The impacts on operations, from today's legacy systems through the transition and eventual completion of NG9-1-1, can be mitigated by a better informed public. For example, public education campaigns for nascent text-to-911 services have been successful in reinforcing the concept to "call if you can, text if you can't." As the expectations of the public become increasingly disconnected from the actual capabilities of PSAPs, 9-1-1 authorities and PSAPs should convey what services they currently offer.
Quality Assurance/Quality Improvement (QA/QI)
One of the larger impacts broadband capabilities will have is on QA/QI. Not only will calls continue to require review in a systematic and objective manner, but new data types, requirements, capabilities, and stresses will all have to be taken into consideration.
The following are recommended updates to the QA/QI program:
Set clearly defined minimum standards and expectations for processing SMS/text-to-911 and multimedia/MMS calls. The QA/QI program must be understood by PSTs.
Update pre-scripted "interview" questions for each public safety discipline (police, fire, EMS).
Set minimum expectations for gathering critical criteria particularly for callers sending multimedia information (address, callback telephone number, nature of emergency, etc.).
Establish new requirements for objective scoring categories and supporting standard evaluation guidelines for the handling of broadband information (below expectations, meets expectations, exceeds expectations, etc.).
Maintain a log of all incoming SMS/text-to-911 and multimedia/MMS calls which are subject to random or requested/special review in the QA program.
Access and print transcripts of SMS/text-to-
911 and record and store multimedia/MMS calls along with other associated information (CAD event, ANI/ALI data, etc.).
Review data, photos, videos, etc. associated with incidents to assess how this information was utilized by the PST.
Provide appropriate training for conducting reviews on SMS/text-to-911 and multimedia/MMS calls to QA evaluators.
Establish timeline benchmarks for conducting QA reviews on SMS/text-to-911 calls and multimedia/MMS calls (e.g., weekly, monthly, etc.).
Establish an accountability process, training, performance improvement plans, and/or corrective action specific to SMS/text-to-911 and multimedia/MMS calls as required.
Align standard operating procedures (SOPs) with those areas identified for improvement so that the SOPs can be used in future training related to use of broadband technologies (in-service training, remedial training, training bulletins, etc.).
Implement or expand Critical Incident Stress Debriefing to address Post Traumatic Stress Disorder experienced by PSTs exposed to disturbing multimedia/MMS data.
---
Notes
13 On the technical side, NG9-1-1 standards are needed to ensure seamless interoperability, connectivity, and data sharing, especially among and between CPE, CAD, RMS, and radio and broadband communications consoles. However, until standards are both developed and implemented in a manner that PSAPs can rely upon as being "build to" or "end state" in nature, PSAPs need to make important inquiries of their vendors. See the Technology section for a more detailed discussion of this issue.