Project 43: Broadband Implications for the PSAP
Recommendations: Training
---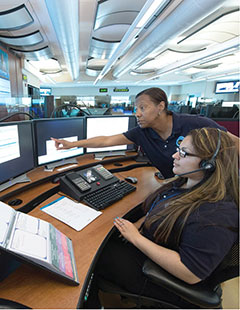 Increased Situational Awareness
Training programs should account for the significant increase in situational awareness that new technologies will afford PSTs.
Training developers should leverage university and enterprise experiences with safety-related technologies for a testing ground for enhanced features and lessons learned to inform training programs.
Training on Cybersecurity
Agencies should consider adopting the training recommendations of APCO's best practices guide to implementing effective cybersecurity policies and procedures in PSAPs, "An Introduction to Cybersecurity: A guide for PSAPs,"93 as well as training standards, best practices, and courses from other sectors such as IT, emergency management, real-time crime centers, and fusion centers.94
Stress Management Training
PSAPs should place greater emphasis on stress management training, especially in anticipation of increased sources of stress brought on as a result of broadband-based technologies. Stakeholders should also participate in research to identify lessons learned in other sectors, and evaluate PST stress and the efficacy of strategies and interventions to prevent or mitigate stress. This would help ensure that any new training standards and programs are informed by existing experience and empirically-driven.
New Baseline Training and Non-Traditional Methods
A common baseline training should be adopted so that regardless of resource and training differences among PSAPs, PSTs are prepared to understand and appropriately respond to the expectations of the public and other emergency responders, particularly in mutual aid situations. Further, PSTs must be trained to use backup (legacy) tools in the event that advanced technologies fail.
In addition to traditional training programs, agencies of all sizes and resources can employ a number of options to educate their workforce, including addressing training requirements in RFPs, sharing resources with other PSAPs, budgeting for continued training needs, using skill-focused trainer selection, and taking advantage of no or low-cost media.
Updated Training Standards
APCO will update its existing standards to reflect the new scope and terminology of a broadband environment and will develop new broadband-related training standards and programs as appropriate.
---
Notes
93 https://legacy.apcointl.org/download/introduction-to-cyber-security-a-guide-for-psaps/?wpdmdl=6250
94 For a list of training courses related to Fusion Center and Emergency Operations Center Coordination, see Appendix 8.