APCO Training Program Certification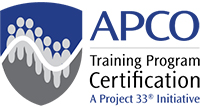 Training for Public Safety Telecommunicators, initial and continuing, is exceedingly important as they provide essential services to the public in an ever-expanding and rapidly changing public safety environment. The APCO Project 33 Agency Training Program Certification is a formal mechanism for public safety agencies to certify their training programs as meeting APCO American National Standards (ANS). Agencies applying for certification submit their curriculum, training materials and supporting documentation to be checked for compliance. The primary objective of the Agency Training Program Certification is to advance the training and professional development of public safety communications officials through the certification of an agency's training program.
Building and implementing a successful agency training program requires many resources and a good deal of dedication. Submitting for certification demonstrates the agency's commitment to training and to meeting national standards. Receiving certification for a training program is a major accomplishment for the agency, its staff and the community it serves.
Agencies that wish to achieve the APCO Agency Training Program Certification must follow a specific process designed to educate, prepare, and finally apply for certification.
The agency will be required to review the Rules and Procedures that guide the certification process, download and read the appropriate APCO ANS, and complete a pre-application online training program. This process is focused on assisting agencies in understanding the process and proceeding with their application only once they are comfortable doing. Once all pre-requisites are completed, the agency will be allowed to proceed to the application and review process.