APCO Training Program Certification
APCO Training Program Certification FAQs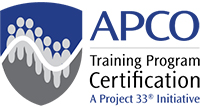 These are some of the most frequently asked questions. For questions, assistance and/or further information regarding APCO Training Program Certification, please email p33@apcointl.org> or call (386) 944-2455.

What is the cost?
The cost to apply for certification is $500. NOTE: Agencies that wish to achieve the APCO Training Program Certification will follow a specific process designed to educate, prepare, and finally apply for certification. Once all pre-requisites are completed, the agency will be allowed to proceed to the payment, application and review process
What are the deadlines?
December 1 - Consideration for recognition at the upcoming APCO Annual Conference & Expo. The agency must complete the "final submit" step and APCO must have received the completed online application and all supporting documentation.
Applications are accepted year round.
Submissions received after December 1 will be considered for recognition at the following APCO Annual Conference & Expo.
Does this program certify individuals?
No, it only certifies non-commercial public safety communications training programs.
Where can I get more information on APCO's standards?
Visit www.apcostandards.org.
Are there any tips that will help me complete the online application?
Yes! It is highly recommended that you draft all information in a word document and save it to your computer. When completing the online application, copy and paste the text into the "Explanation" box. You will have a record of your data and a backup in case information is not saved.
Does the system save my data?
Yes. This is the "Save & Quit" button at the bottom of each page. When you click this button, you will need to login again. If you are not prepared to do a Final Submit and do not click "Save & Quit," your data will not be saved. There is text in the Getting Started Tab and on each Chapter tab to remind you of this feature.
For more information or questions please contact p33@apcointl.org.