Emergency Dispatch Guidecards for EMD, Fire Service & Law Enforcement
APCO Guidecards improve your agency's call taking and dispatching by providing rapid and consistent instructions customized to meet your agency's needs and resources. They give telecommunicators ready access to precise information for specific call types and provide call handling techniques — which means your callers get the fast, consistent and appropriate information they need and expect in an emergency.
APCO Guidecards are specialized for emergency medical dispatch (EMD), fire service and law enforcement, and are available as Guidecard Racks or as Guidecard Binders.
Guidecard Rack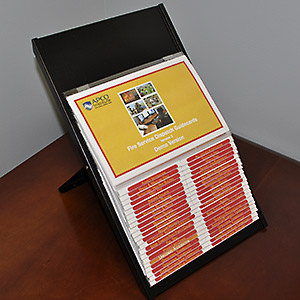 Guidecard Binder