The APCO Law Enforcement Dispatch Guidecards serve as a tool that the front-line telecommunicator can use to perform the duties of Law Enforcement Communications. The Law Enforcement Dispatch Guidecards provide agencies with guidecards for the triaging and dispatching of law enforcement related emergency calls, and customized to match the needs and resources of the individual agency.
The Law Enforcement Dispatch Guidecards use law enforcement specific information and call handling techniques taught in the APCO Institute's Public Safety Telecommunicator and upcoming Law Enforcement training courses. These incorporate information provided by subject matter experts in the public safety communications industry.
Sample Law Enforcement Guidecard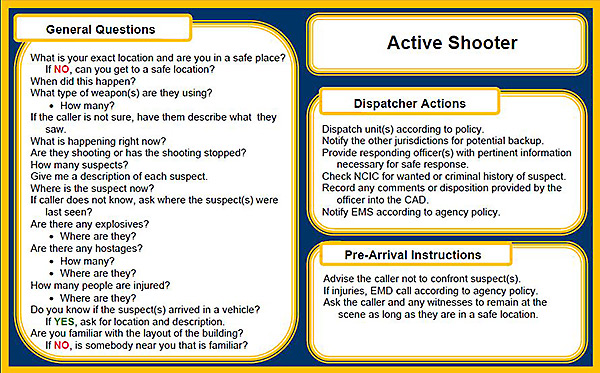 The guidecards are available in hard copies as Guidecard racks or Guidecard binders.
For pricing and customization information, contact APCO Institute staff at emd@apcointl.org or (386) 322-2500.